Illustration - Autumn 2006 - Issue 9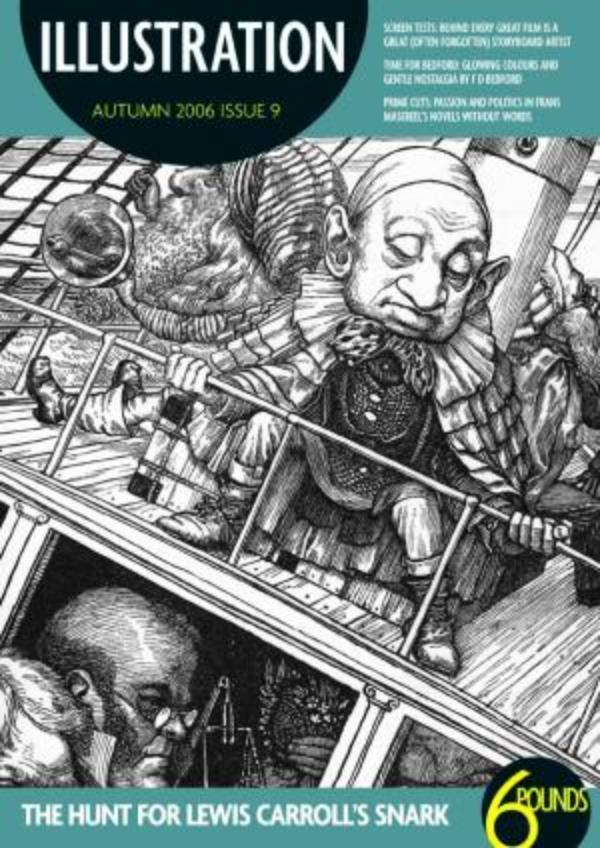 Heroic yet doomed quests are the stuff of many of the greatest legends, from Arthurian knights seeking the Holy Grail to Don Quixote. Lewis Carroll's celebrated nonsense poem The Hunting of the Snark was a notable addition to the genre when it was published in 1876 with striking black and white images by Henry Holiday. Since then it has been translated into many languages and its surreal humour and underlying nightmarish terrors have attracted many great illustrators including Max Ernst, Helen Oxenbury, Tove Jansson and Ralph Steadman. As a new edition illustrated by John Vernon Lord appears, we look at the history of artists' attempts to capture the true essence of the elusive Snark, the strange symbolism of the poem and the demands placed by the author on his original illustrator.
From classic quests we turn to classic films – not the finished product, but the storyboards that helped to determine the scenes, camera angles and overall look of favourites from Gone With the Wind to Gladiator . Brave and handsome heroes are also the subject of many of Jan Pienkowski's famous illustrations for classic fairytales and fantasies by Joan Aiken. After this we abandon the epics, sagas and melodramas and examine a selection of illustrations that highlight the lives of ordinary people. The nostalgic beauty of the stunning colour plates of shops and working people by Francis Donkin Bedford, however, have little in common with the stark black and white, politically charged fantasies in the woodcut books of Frans Masereel, or even with the much-loved depictions of mothers, children and families in the illustrations of Shirley Hughes. Whether you are searching for the familiar or the exotic, sinister or reassuring, we hope your quest will be successful.