Illustration - Autumn 2009 - Issue 21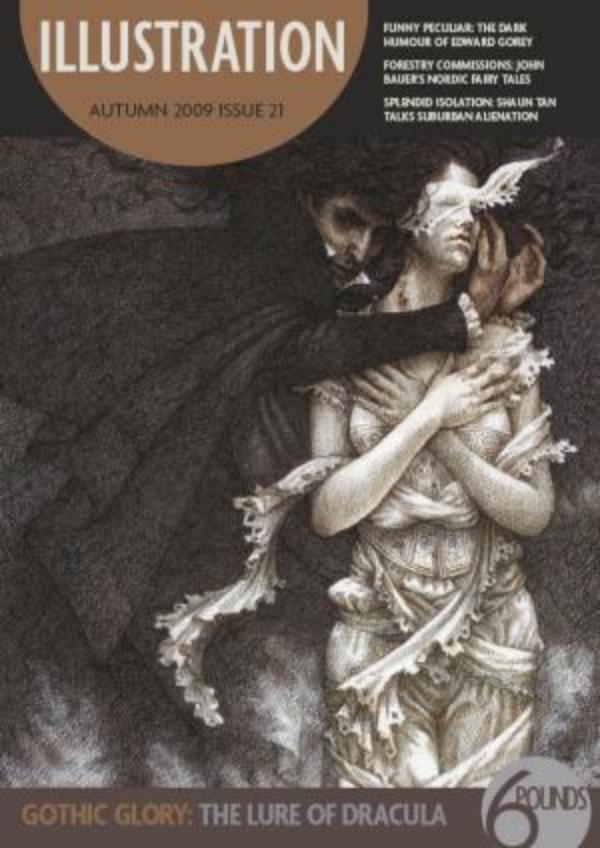 As the nights draw in and Halloween approaches, we turn to the fine tradition of telling supernatural tales and fairy stories in front of the fire. And where better to start than with the daddy of all vampire novels, Dracula? This issue Yvonne Gilbert explains her love of Bram Stoker's classic, tells us why she views the sinister count as the true hero and how she approached the daunting task of illustrating a novel that has more visual clichés than a spaghetti western film. From Stoker's 19th-century asylums and graveyards we turn to Edward Gorey's 20th-century take on gothic and surrealist traditions. We find out about the man behind the bizarre – and hilariously disturbing – little books and explore the amazing range of stories and ephemera that he produced.
Having travelled from Transylvania to London and the US, we look to Scandinavia to teach us how to survive the long winter nights when we examine the Swedish fairy tale illustrations produced by John Bauer. Meanwhile, as spring starts in the southern hemisphere, Australian illustrator Shaun Tan creates modern fairy tales for those wandering lost in the brick and Tarmac forests of suburbia. And an Italian exhibition shows us how images for Aesop's fables have spoken to generations across the centuries. But even in the north, it's not all dark yet. Autumn is a time of transition and we mark the end of summer when we learn how the Royal Horticultural Society is preserving the fading flowers in its collection of 19th-century Chinese botanical illustrations and raise a toast to the advertising campaign for Adnams beers produced in linocuts by Chris Wormell. This note of celebration seems apt, since Illustration is coming of age with its 21st issue and celebrating its fifth birthday. Thank you to everyone who has supported us for the past five years and welcome to anyone who has just discovered us. We hope you enjoy issue 21.