Illustration-Autumn 2018 - Issue 57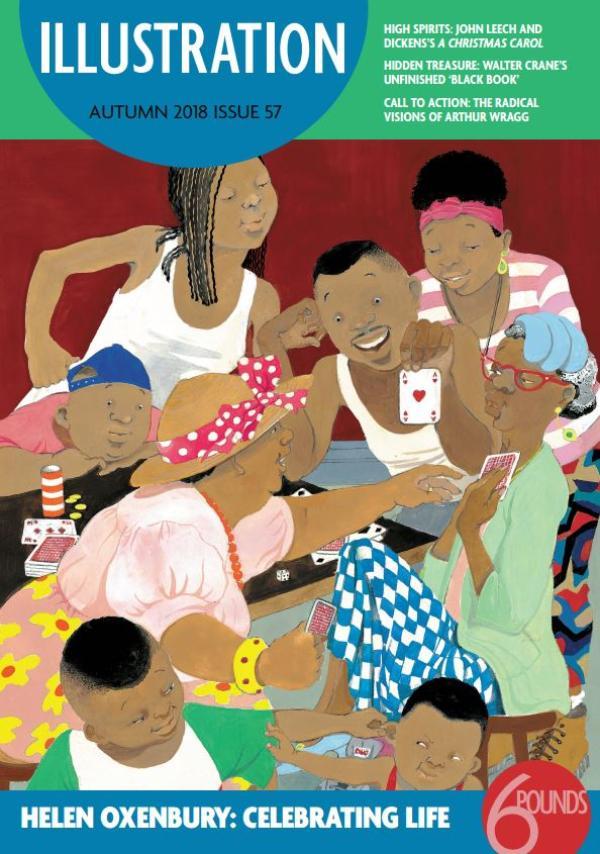 Cover: Helen Oxenbury - So Much (Walker Books 1994)
Contents
Walter Crane's black book for Myvanwy – Walter Crane created a series of handmade books for his children, most of which were never published commercially. One, however, is particularly poignant because it was left unfinished after his 2-year-old daughter, Myvanwy, died. The book is now in the collection of the V&A and we take a look at what it shows us about Crane's home life and work for his own family.
John Leech and Charles Dickens's A Christmas Carol – we examine the original illustrations for what is possibly Dickens's most read and best-loved book and find out more about what author and illustrator were trying to do and how they achieved this.
Interview with Helen Oxenbury – She has been one of the UK's best-known and best-loved illustrators since the 1960s and Helen Oxenbury's We're Going on a Bear Hunt and award-winning Alice in Wonderland, among so many others, are a fixture in a vast number of children's bookshelves today. As a new biography featuring much of her work throughout her career appears, we talk to her about her life, her career and her inspirations.
Arthur Wragg bucked the trend of illustrators depicting idyllic pastoral scenes in 1930s Britain. Instead, he chose to highlight the squalor and poverty that so many endured in the cities, driven by his radical politics and Christian Socialist believes. We rediscover some of his powerful polemic images that he created for picture books highlighting the inequalities of capitalism and the suffering of the workers.
Notebook: Emily Sutton has become a familiar artist and illustrator across the varied fields of picture books, lithographic prints, fabric designs for St Judes, packaging and paintings. She shows us how she records her ideas and inspirations in her sketchbooks and tells us what they mean to her.
Otto Schubert - German painter, draftsman, and printmaker Otto Schubert suffered through the great tragedies of the 20th century – two world wars, the great depression and the annexation of east Germany by Russia, however his work continued to demonstrate humour and happiness in simple pleasures, although it did not ignore the darker things he has seen and endured. We explore his life and work and then find out about a mysterious children's book for which he created ten surreal watercolours, but which was never published.