Illustration - Spring 2007 - Issue 11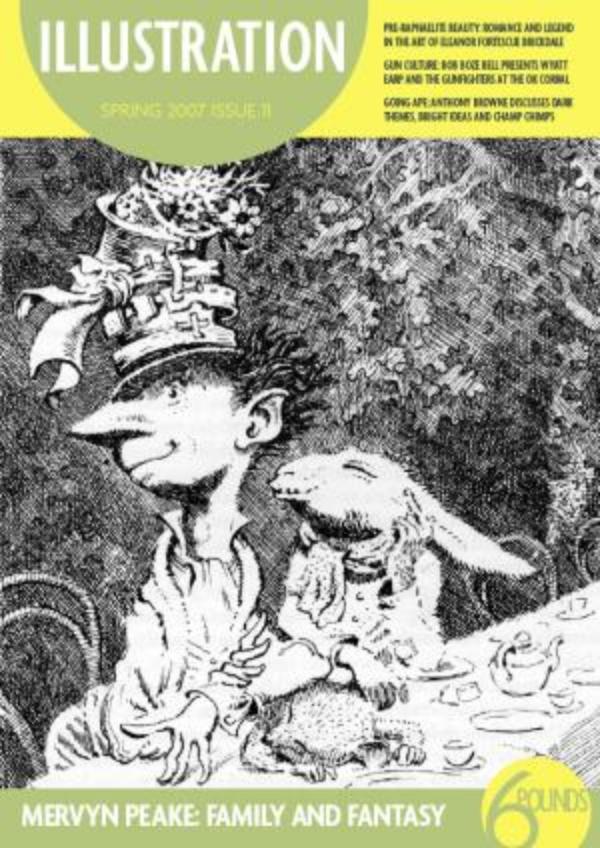 This spring we're ringing the changes, moving in rapid succession from the bizarre, often dark world of Mervyn Peake's extraordinary imagination to the brightly coloured, richly textured illuminations of Eleanor Fortescue Brickdale; and from the 1950s idyll of Eileen Soper's Famous Five illustrations to the American Wild West of Bob Boze Bell. We speak to two very different modern illustrators, Tony Ross and Anthony Browne, and we find out about the illustrated book collection at the heart of the Royal Academy of Arts.
However, first impressions can be deceptive. Mervyn Peake's son tells us that, despite being the creator of the supremely dysfunctional Groan family in his Gormenghast novels, his father was an enthusiastic family man, encouraging his children to participate, as models or onlookers, in his work. Eileen Soper, on the other hand, was not the family-centred mid-20th-century mother her audiences might have expected. Instead, she was reclusive and isolated and lavished most of her care and attention on the wildlife that thrived in her garden. Eleanor Fortescue Brickdale, despite being the high priestess of late Pre-Raphaelite romanticism, reveals an unexpected sense of satire and an interest in 20th-century technological progress, under scrutiny. 
There is no reason why we should expect our favourite authors and illustrators to live lives that mirror their art, although this is the premise that seems to have convinced the makers of recent films on Jane Austen and Beatrix Potter. Finding the core that inspires art is interesting, as we find when Bob Boze Bell remembers his rodeo queen aunt, however artists are more than video recorders. It is what they do with these inspirations, loves and fears that is infinitely more fascinating. If you need more information about an illustrator or have an insight that you want to share, log on to our discussion forum and let us know.