Illustration - Spring 2016 - Issue 47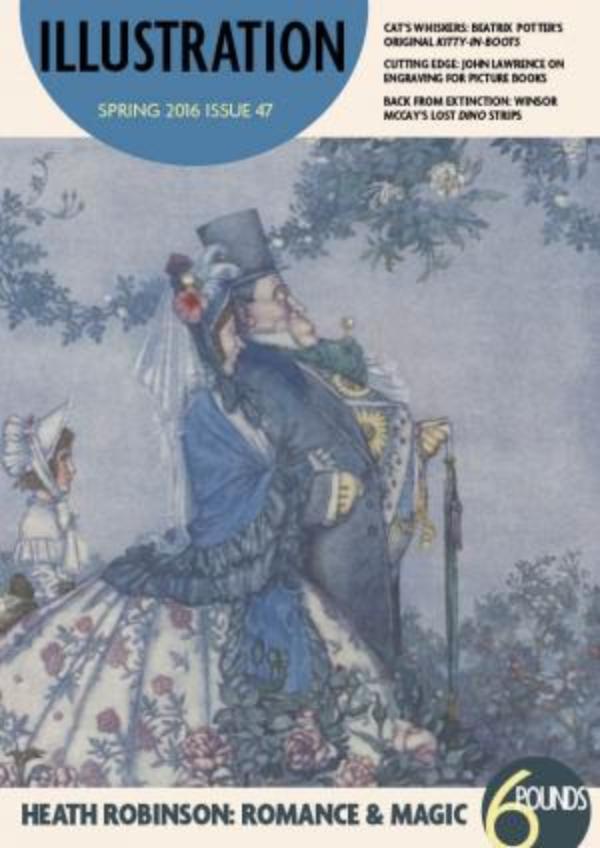 "Lost" works of art are fascinating because they come with a back story about why they were lost and what happened to restore them to prominence. There is always a sense of relief at the serendipity of any re-discovery and a curiosity about whether the missing treasure is truly good in its own right. This issue we are lucky enough to feature two remarkable stories of "lost" work being rediscovered through both good fortune and hard, painstaking excavation work. Even more surprisingly, both are works by great names in their fields – not curiosities interesting primarily for the light they cast on other, better-known illustrators. 
In the first of these, we find out how a long-lost picture for Beatrix Potter's unpublished Kitty-in-Boots unexpectedly turned up at the V&A and how this enabled it to be reunited with the original manuscript and to throw light on the author's intentions for the story's development. The second focuses on the long, arduous task of both discovering and then piecing back together a lost comic strip by Winsor McCay that, it seems, was probably abandoned only because the artist died suddenly half-way through its creation. 
These two stories are fascinating not only for what they reveal about the works themselves, but also for the strange ways in which such treasures can remain buried for years in private collections, often unrecognised for what they are, but still emerge intact and requiring only the right person to make the necessary connections. However, they also raise questions about the role of the people who collect and preserve these things without always knowing what they possess. How many beautiful and historically interesting illustrated works still await rediscovery and will such finds be affected in future by the way in which much new work is now stored digitally? Will this help to preserve things for posterity or will they simply be lost in an upgrade or to a corrupted file?
Also in this issue: William Heath Robinson's romantic book illustrations; an interview with John Lawrence; the sketchbook drawings of Niroot Puttapipat; and an exploration of the collection of the Wolfsoniana in Genoa (sister to the Wolfsonian in Florida)