Illustration - Spring 2019 - Issue 59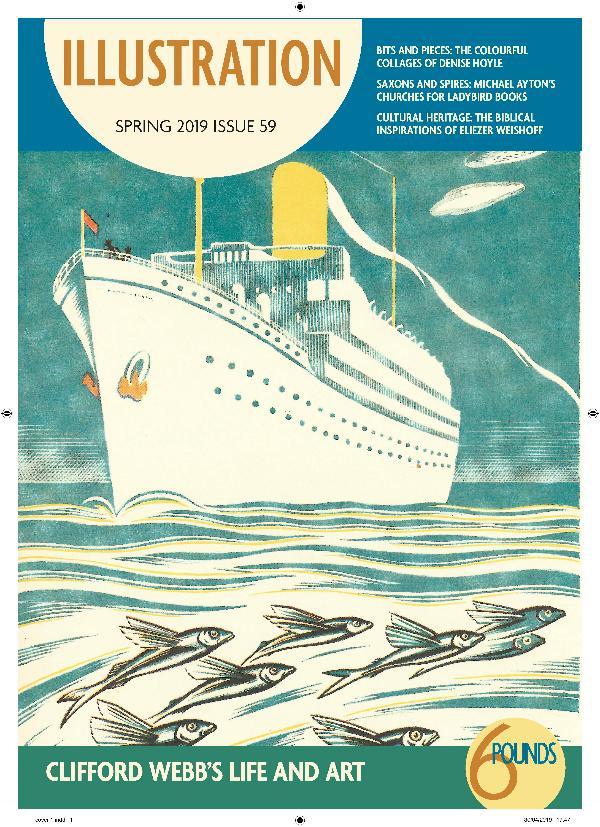 Contents of the Spring Issue include
Clifford Webb: the many beautiful illustrations of Clifford Webb, depicting everything from wood-engravings of wildlife and tranquil rural farms to images depicting battles and heroic deeds are rather better known that the details about his life – many of which he deliberately obscured. A new book reveals the facts about a complex man and the reasons why his work has not been celebrated since his death as much as it deserves.
Alan Powers: Although he is well-known as the author of numerous books on 20th-century artists and design and an expert on Modernism and Modernist architecture, Alan Powers is also an accomplished artist and for many years practised as a painter, muralist and illustrator. We talk to him about his artistic work and about what he looks for in illustration.
Valeria Brancaforte: It's difficult to define a single style that marks Valeria Brancaforte's work. She has completed large-format linocut artist's books as well as delicate concertina-folded limited editions and has illustrated them in a variety of media. However, her passion for incorporating the text into the illustration and using it as an integral part of the design is a constant feature of all her books – many of which have won prestigious international awards and are held in collections including that of the V&A in London.
Michael Ayton: Ladybird Books have been a huge influence on children for generations. Simon Cooke explains why Michael Ayton's illustrations for Churches and Cathedrals proved particularly fascinating to him as a child and why these images inspired him with interests that have remained with him throughout his life.
Eliezer Weishoff: Now in his eighties, Eliezer Weishoff has a back catalogue of commissions and awards that cover his posters, stamps, illustrations, advertising material and sculptures. He has worked for many of Israel's top companies and for international clients including the UN. He tells us why he is still hard at work and has no intention of sitting back and taking his pension.
Denise Hoyle: When a young French au pair married the artist Walter Hoyle, she did not realise that she had entered an artistic circle of friends that would be much celebrated as the Great Bardfield artists today. Her own work was completed at her kitchen table and made from collaged scraps of magazines and catalogues, given to her by a friend, but its vibrant life and brilliant colours captured the imagination of more than her own children and she gained commissions from employers including the Post Office. We find out more about her unpublished book illustrations.
Notebook: Joe Munro's reportage sketches of kebab shops and street vendors, fishermen at work and dancers in Cuba are snapshots of moments in time and offer insights into daily life of a variety of subjects. Some of these are then worked into finished pieces, while others remain to be rediscovered in his sketchbooks. He tells us what they mean to him.