Illustration-Spring-2021-Issue-67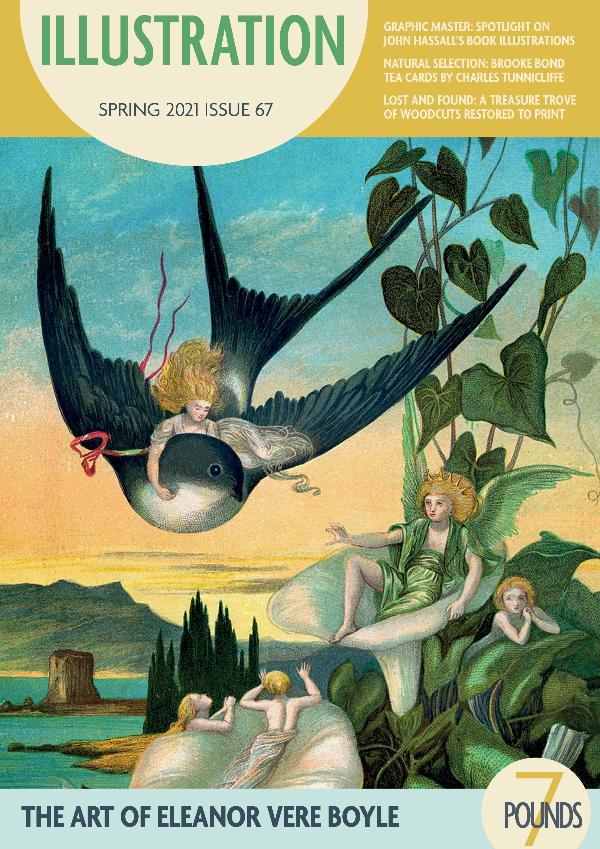 Contents
Editorial
Welcome to Illustration 67
News and reviews
A brief round-up of current news stories, exhibitions and competitions – plus new books, reader offers, catalogues and websites, auction highlights and dates you need to remember.
Illustrator's Notebook
Children's illustrator and painter Brita Granström has recorded the major events of her life in her sketchbooks, from her children's births to family holidays, vanishing local shops and chance encounters in cafés. She shows us a selection and finds that, in doing so, she revisits her past and recalls long-forgotten memories.
John Hassall  
He became known as The Poster King, but John Hassall's prolific output and varied range of talents covered everything from fairytales, alphabets and nursery rhymes to humorous novels, designs for china and dust jackets. As a new book reveals why he deserves to be remembered for far more than his "Skegness is SO bracing" poster, we learn more about the range of his talents.
Eleanor Vere Boyle
The sumptuous fairytale books, with colour illustrations printed in glowing chromolithography, and other children's books of Eleanor Vere Boyle ("EVB") appear superficially decorative and conventional, but convey darker and stranger undercurrents than might be expected of an affluent Victorian cleric's wife. She was clearly influenced by the Pre-Raphaelites, but has her own distinct voice and unconventional outlook. We find out why her work repays closer attention. 
The tea cards of Charles Tunnicliffe 
Published and distributed with packs of Brooke Bond Tea, the wildlife cards produced by Charles Tunnicliffe – and carefully stuck into albums by avid children collectors – are mini-masterpieces and inspired generations of animal lovers and artists. 
Woodcuts for Good Boys and Girls
When a chance find on eBay revealed a long-lost collection of woodcuts for the earliest printed illustrated children's books, Fleece Press owner Simon Lawrence turned detective to track down the history of the blocks. He uncovered some of their story, ensured they were preserved for posterity, and printed a miniature volume of The House that Jack Built from the original cuts used in John Newbery's first edition in celebration.
The artist's books of Andi Arnovitz
Politics, poetry and textiles all inform the book artworks created by artist Andi Arnovitz. Drawing on both her upbringing in a family of haberdashers in the US Mid-West and on texts by local poets in her adopted home country of Israel, she repeatedly returns to creating artist's books that range from extravagant time-consuming single editions to printed short-run limited volumes. She explains the stories behind them and how they were made.
Graduate  round-up
Four young artists fresh from their degree courses at Cambridge School of Art and The University of Gloucestershire discuss their current work, their inspirations and their ambitions for their future artistic careers.
Resources

Areté Editions
Sherlock Holmes takes on Death and black bees in the first publication from a new fine press imprint, created by Phil Abel at Hand & Eye letterpress and designer and film-maker Marcelo Anciano. Neil Gaiman's The Case of Death and Honeyis illustrated by award-winning US illustrator Gary Gianni and published in three editions.
Look and learn
What are the key events, shows and exhibitions coming up in the next few months? Find out what you can't afford to miss.
Contributors
Lucinda Gosling is an historian and writer and works at the specialist historical image resource, Mary Evans Picture Library, where she is head of sales and research. She has an interest in 20th-century social history, the first world war and illustration and has written more than 10 books. She recently co-wrote Art of Feminism published by Tate, and her latest book, on John Hassall, was published by Unicorn Press in April. ("More than Skegness", page 8.)
Mick Manningis an artist, illustrator and writer who studied in Bradford and Newcastle before attending the Royal College of Art (1984-87). In the 1990s he devised and taught an unashamedly drawing-based Illustration course at the Glasgow School of Art that included an annual field trip to North Uist. He is an honorary fellow of the English Association and Bradford College and exhibits online with St Jude's Prints,  Edinburgh's Open Eye Gallery and Godfrey and Watt.("Nature and nurture", page 26.)
Simon Lawrence has printed and published over 90 books during the past 40 years under the Fleece Press imprint, most of them relating to the printmakers of the inter-war years, and with a particular interest in wood-engravers and war artists. His current efforts are being channelled into Spitsticks & Multiples, the early history of the Society of Wood Engravers, 1920-46, a 600-page extravaganza. Making new and original books has been his passion, and the most recent is Woodcuts for Good Boys and Girls, a miniature by Brian Alderson on John Newbery's children's books. . ("Eden regained", page 32.)
Mordechai Beckis a printmaker, artist and writer born in  the UK, but based in Israel. His prints have been purchased by MOMA, the Library of Congress, the universities of Yale, Berkeley and others. His articles appear regularly in the Jewish  Chronicle and in the Guardian, Print Quarterly and Letter Arts Review. His fiction has been published in the Literary Review, The Jewish Quarterly and other places. ("Political craft", page 38.)