Illustration - Summer 2005 - Issue 4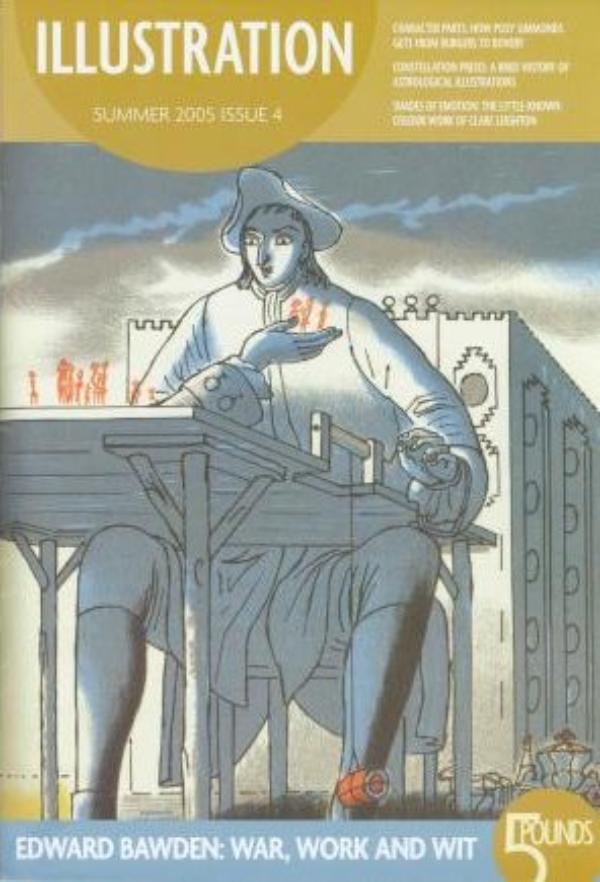 Edward Bawden is one of the giants of 20th-century art, design and illustration, which is why we're so delighted to welcome several distinguished authors and artists to discuss his work, his sense of humour and his influence. His work was nothing if not versatile – he seems to have been equally comfortable designing wallpaper at home in rural Essex, illustrating Jonathan Swift's Gulliver's Travels or Gustave Flaubert's Salammbo, and recording his experiences attempting to get Edward Ardizzone across war-torn Europe when they were both Official War Artists (page 12). 
From Bawden we move on to Francis Mosley who, unfazed by being offered the monumental task of illustrating the complete works of Joseph Conrad, decided to experiment with linocut for the first time when he embarked on what turned out to be a nine-year project (page 20). Claire Leighton, however, made her reputation for remaining constant to, and excelling at, wood engraving. We find out, however, that, despite her success, she did sometimes rebel against the constraints of black and white and her few forays into colour offer new insights into her artistic ambitions and emotions (page 24). 
When it comes to stretching your horizons, the stars are the limit, which is why the history of astrological illustrations throws a fascinating, if at times arcane, light on the development of the symbols of the zodiac and the way in which people have always sought to read the future in the heavens (page 30). 
We don't promise to reveal your destiny, but we think we can predict that you'll spend some pleasant hours trawling through these articles and others in the current issue. The summer is traditionally a time for unwinding with friends and rediscovering old acquaintances. We hope Illustration number 4 will get the season off to a warm start as it fans old flames and ignites new passions.