Illustration - Winter 2006 - Issue 10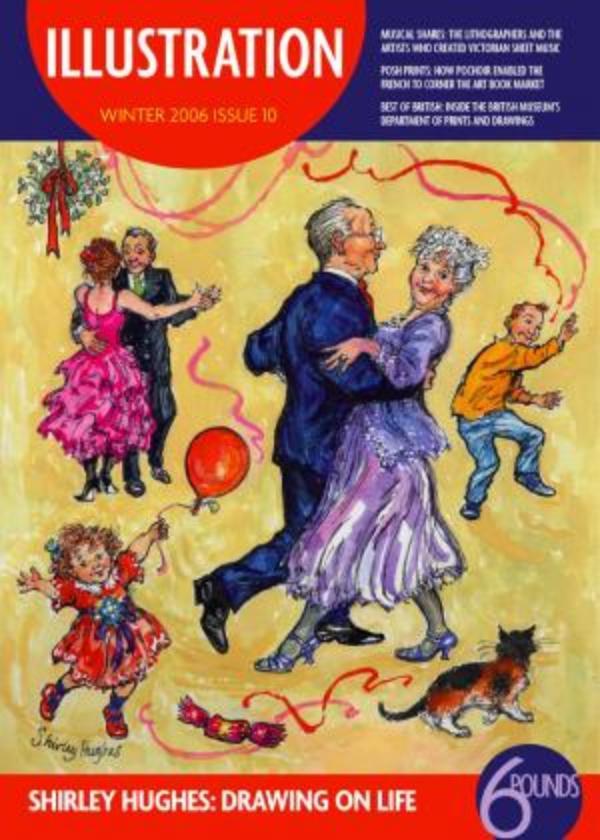 Anyone who doesn't know recent work by Shirley Hughes has got a lot of catching up to do. While her classic books such as Dogger and Alfie are still going strong, Hughes has also produced ambitious picture books depicting changing social and domestic scenes in the 20th century and imaginative fantasies for older children (page 12). This issue also has theatrical pretensions. Hughes started out "theatre mad" and worked in costume design while at university, and much of her recent work reflects this fascination. We view her work alongside Art Deco glamour in French magazine Noël and the work of masters such as Umberto Brunelleschi (page 26). We then turn back to the 19th century and find out how the stars of the music halls were depicted on sheet music (page 18). This brings us to consider the processes that have enabled illustrators to transfer their work into print. The sale of illustrated sheet music was made possible by lithography. 
By the start of the 20th century, however, both the music halls and the technique were in decline, but the French were perfecting the art of pochoir, which soon came to epitomise the best-quality colour reproduction (page 26). Today, of course, we take good colour printing for granted, but the Gwasg Gregynog press in Wales is determined that we should not forget the past and is keeping traditional arts alive, while looking confidently to a 21st-century future (page 42). Our collection article in this issue focuses on the works on paper held in the British Museum (page 34). Illustrator Jackie Morris then tells us about the challenges of compiling and illustrating an anthology of poetry (page 30). Further afield, we find out about modern illustrators working in Croatia (page 38) and in our Resources section Martin Frost explains the delicate art of fore-edge painting.