Printmaking Today - Spring 2018 - Issue 105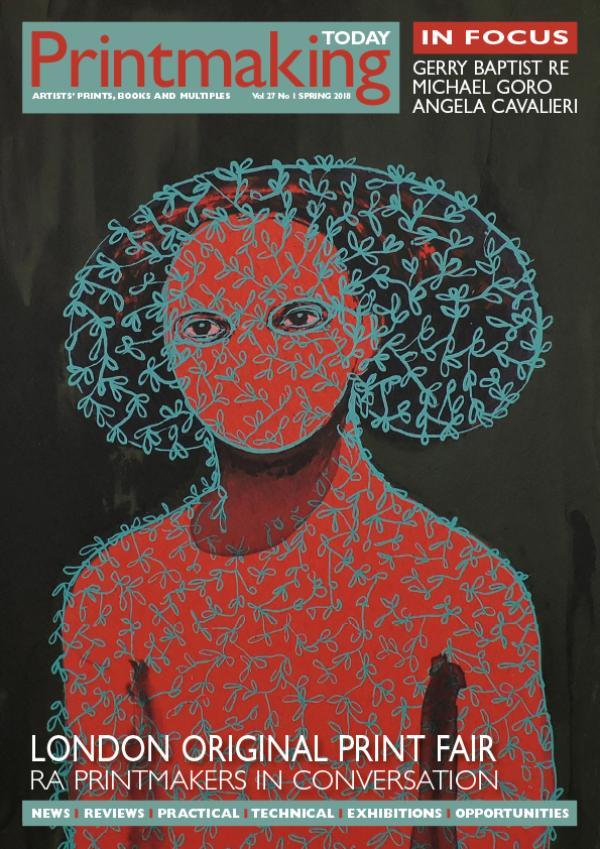 Featuring profiles on Gerry Baptist RE, Michael Goro and Angela Cavalieri. The RA printmakers look ahead to the London Original Print Fair. We have a technical article on Risographs, a report from a project at the Prints and Drawings room at the British Museum, an update on the goings on at the Krakow Triennial and how print has been used to right imbalances in a leading Canadian gallery's collection. Plus regulars including artists' books, listings, news & reviews
| | |
| --- | --- |
| Year | 2018 |
| Volume | 27 |
| Issue | 105 |
Cover Image - Sealed Silence (2017) by Lisa Wright. Screenprint 400 x 300 mm Edition 35. Printed and Published by Advanced Graphics London
Contents     Volume 27 Issue 105 Spring 2018
Print maker's Diary  Mychael Barratt PRE reflects on his Presidency and future plans for the RE
Profiles     
Don't Miss This!
Mike Sims on Gerry Bapist ARWS RE and  his restless switching between the drive to do and headscratching about what exactly
Memory and Meaning
Past and present collide in the graphic works of
Michael Goro
writes Naomi Margolis    
Epic Narratives
Reimagined stories wind their way through the artworks of Angela Cavalieri, whether contained with an artist's book or stretching across the walls of a public library. Catherine Cartwright visits the studio where a team of human presses work on Cavalieri's enormous linocuts.
The Artists' Fair
Looking ahead to the London Original Print Fair, Leonie Bradley interviews Eileen Cooper RA, Anne Desmet RA Re, Chris Orr RA RE, Rebecca Salter RA and Emma Stibbon RA for insider views on the fair, what it means to be an RA and why the fair is the perfect place to start a print collection
Practical
On reaching their 40th anniversary Belfast Print Workshop sought to open up their extensive print archives to the public.  Helen Lavery reports on the process from securing funding to creating new works for this significant collection of printmaking in Northern Ireland
Hidden Mentor
Derek Desant RCA responds to the graphic properties found in Bill Morrison's filmmaking
Artist's Eye
Leonie Bradley interviews Kirsten van Schreven about her enigmatic drypoints, which won the Printmaking Today prize at the National Original Print Exhibition    
A Brush with Greatness
Artists' Books Sarah Bodman marvels at an ambitious pochoir project by Kitty Maryatt
Cuttings - News and Events
Technical
Rolling with the RISO
Risograph is an affordable, versatile and environmentally friendly way into screenprinting, John Powell-Jones describes how to make a RISO print and looks at artists pushing its limitations for creative applications of the technique
Collections
An Open Edition     
Felicity Tayler reports on a leading gallery in Ottawa, Canada that has commissioned prints to address imbalances in a collection which has a moratorium in place
Practical
Printmakers in the Dalziel Archive
Contemporary wood engravers were  invited by Dr Bethan Stevens to collaborate with the Prints and Drawings Department of the British Museum on a project focusing on Victorian trade engravers, the Dalziel Brothers    
Opinion
Ending or New Beginning
What next for international print competitions?
Concerned about relevance, and rising costs for artists, international judge and writer; Richard Noyce, interviews organisers, artists and academics about the Krakow Print Biennale. His findings and advice apply to competitions everywhere
Book reviews
Plus Opportunities, Resources